— The 2018 Infiniti Q50 and 2018 Acura TLX A-Spec have a lot in common — including the fact that both got significant refreshes for the 2018 model year. The two models got very similar updates, adding new styling and technology into the mix.
The styling updates for the Q50 are subtler, but it was attractive before and had less work to do. The TLX A-Spec has a brand new nose, which was needed, the shield grille was eliminated and overall width was added, giving the car a sportier look.
Related: Luxury Sports Sedan Challenge: Is the BMW 3 Series Still Best?
Get 2018 Acura TLX Details Find a 2018 Acura TLX Near You
One other thing that both of these sedans have in common: They missed out on our Luxury Sports Sedan Challenge this past summer. And while we can't know how they would have fared against the other seven competitors, they match up well enough to pit them up against each other. I drove the Q50 and TLX A-Spec in back-to-back weeks to find the differences between the two Japanese luxury sports sedans.
Here's how the two cars break down in terms of specs, features and price:
2018 Infiniti Q50 3.0t Sport
Powertrain: 300-horsepower, twin-turbocharged 3.0-liter V-6 making 295 pounds-feet of torque; rear-wheel drive; seven-speed automatic transmission
Fuel economy: 20/29/23 mpg city/highway/combined
Key features: Dual-display system, navigation, blind spot warnings, around-view monitor, autonomous forward emergency braking, Dynamic Digital Suspension, and front and rear parking sensors
Price as tested: $50,410 (including a destination charge)
2018 Acura TLX A-Spec
Powertrain: 290-hp, 3.5-liter V-6 making 267 pounds-feet of torque; Super Handling All-Wheel Drive; nine-speed automatic transmission
Fuel economy: 20/29/23 mpg city/highway/combined
Key features: Dual-display system, navigation, wireless phone charger, blind spot warning and AcuraWatch (autonomous forward emergency braking, adaptive cruise control, lane keep assist and road departure mitigation)
Price as tested: $45,750
These two cars are very close on paper, with similar power figures, identical fuel economy and dual display multimedia systems. But in my testing time with both vehicles, I was able to identify a few key differences between the two sedans — most of which tipped the scales in favor of the Acura.
1. Fun to Drive
The Q50 is offered with a long, wordy list of available performance enhancements — Digital Dynamic Suspension, Active Trace Control and vehicle-speed-sensitive power steering were listed on the sticker of my test vehicle. But there was one unchecked box that would have helped matters: Direct Adaptive Steering. I tested that system previously on the Q50's coupe sibling, the Q60, and found it to be a big improvement for one key reason: feedback.
Though the Q50's Used Engine and power delivery were on par with that of the TLX A-Spec, the lack of steering feedback made it much harder to push confidently due to a disconnect with the front of the car.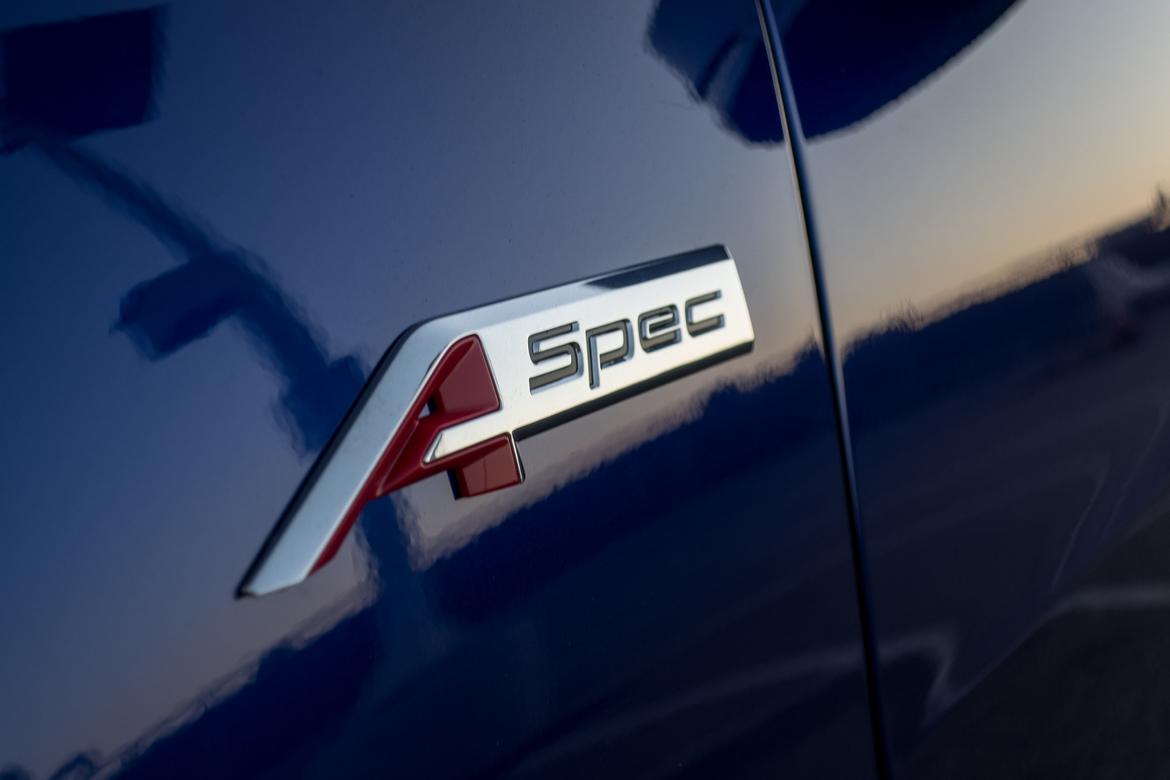 There was also one other factor in which I preferred the TLX A-Spec: transmission. There was a strange lag between hitting the accelerator in the Q50 and translating that input into forward motion. It wasn't there when using the paddle shifters in manual mode; it felt like the transmission was having trouble choosing gears on downshifts.
Also, a quick shoutout to the TLX A-Spec's Sport Plus mode, which functions as a true sporting drive mode. It holds gears nearly to redline and tightens up throttle response decisively. This mode is so aggressive that it's unsuitable for everyday driving — and I mean that as a compliment.
2. Second-Screen Problems
Both of these vehicles offered multimedia systems with dual-display setups, and in their natural forms, both have big problems. The top screen in each system isn't a touchscreen and can only be controlled by a dial — Acura's on the center console, Infiniti's between the front seats. The default viewing mode for each screen is to show the navigation map, but both suffer from common problems: low res, cluttered maps and a convoluted system for entering or searching for destinations.
But the TLX A-Spec has an ace in the hole that the Q50 lacks: Android Auto and Apple CarPlay. The availability of these systems justifies that second screen: The smartphone mirroring takes place on the top screen, which leaves the bottom screen open for climate control and radio adjustments, among other tasks. It does mean you have to use a dial to control the two systems (which is not our favorite way to use them; they are designed with touchscreens in mind, and it shows), but it's a much better solution than dedicating it to navigation, phone calls and the camera systems.
3. Safety Features
The TLX A-Spec comes standard with AcuraWatch, which includes automatic forward emergency braking, lane keep assist, road departure mitigation and adaptive cruise control. On top of that, the A-Spec adds blind spot alerts, and front and rear parking sensors.
The Q50 added most of these features back, as well as a part of its options packages, but it was missing adaptive cruise control and lane keep assist — two systems that are especially helpful on longer drives. It felt weird that a car that costs more than $50,000 would omit these systems, but that leads into the final point...
4. Value
There was about a $5,000 difference between the two vehicles, and I felt like the Acura still offered more features. The only feature on the Q50 that I could think of that the TLX A-Spec was missing was a 360-degree camera, but that wasn't enough to level the playing field in terms of advanced safety equipment.
The Q50 is offered with those features, but to get them would require the ProActive Package for $2,700 in addition to four other packages, driving the price up even further (and sounding like an acne treatment from Jessica Simpson's medicine cabinet).
To be fair, there are a few things the Q50 does better than the TLX A-Spec: It's quieter inside and feels more luxurious, offers a more comfortable ride, and the Used Engine is responsive and provides easy power (when choosing gears on your own). But the bulk of the points still go to the Acura — and it's the one I'd take home.