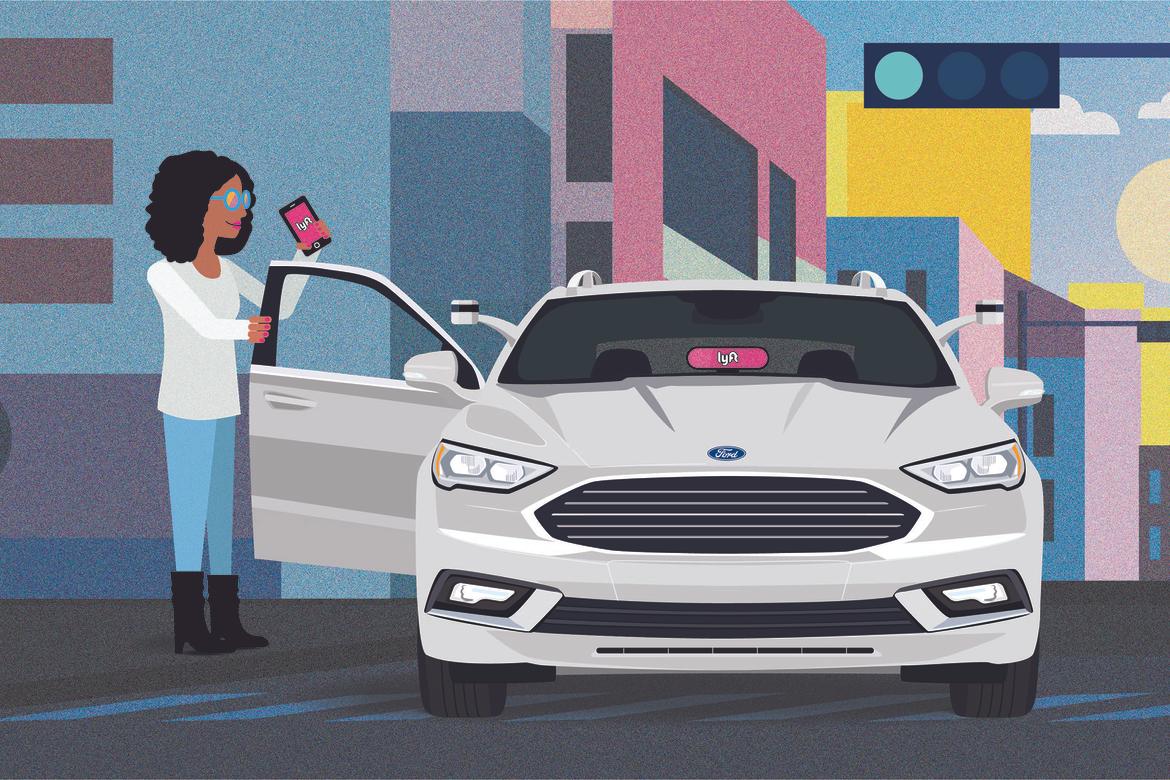 Auto and tech companies continue to scramble to make sure they have a prom date for the self-driving future (there should be an app for that), and the latest hookup, announced today, is between Ford and ride-hailing service Lyft.
Related: Feds Update Self-Driving Systems Guidance
Ford says the companies will partner to put self-driving Fords into Lyft's ride-hailing network. The goal is to develop systems that marry the automaker's development of autonomous cars with Lyft's network and customer base to deploy them. Lyft is the No. 2 ride-hailing network and now operates in 40 states, with plans to expand in the U.S. and abroad. Lyft has said it is developing an open platform for multiple companies to connect self-driving vehicles into its network.
Under the new partnership, the companies will look at how to integrate Ford autonomous technology with Lyft's vehicle dispatch platform, where the deployment should start and what infrastructure is needed to maintain the self-driving cars, Sherif Marakby, Ford vice president for autonomous vehicles and electrification, stated in a blog post.
Marakby wrote that deployment would begin with drivers in the vehicles and that autonomous operation would begin only when safety and dependability could be assured. That also would depend, in part, on government regulation of such services. Among pilot projects already underway, Uber is testing self-driving vehicles in Pittsburgh through its research facility, and Ford recently announced a self-driving pizza delivery vehicle in Ann Arbor, Mich.
Ride services and goods transport have been seen as likely first areas for deployment of expensive self-driving technology because of the potential cost benefits of eliminating drivers' jobs.
Lyft is 9 percent owned by GM, which invested $500 million in the company last year. That relationship is not exclusive, according to Lyft, and GM said today that the Ford deal does not affect its business links with San Francisco-based Lyft. GM has been providing short-term rentals for Lyft drivers, including Chevrolet Bolt EVs, through its Maven car-sharing service and has been testing self-driving Bolt EVs in San Francisco that are being developed with its recently purchased Cruise Automation subsidiary.
Lyft also already has links with Jaguar Land Rover (which invested $25 million) and Waymo, among other companies. A further potential complication in this tangled web of relationships is a Bloomberg report this month that Alphabet, parent of Google and Waymo, is in talks about a possible investment of $1 billion in Lyft. Waymo's previous relationship with rival Uber has been strained by an ongoing court battle over self-driving car technology.