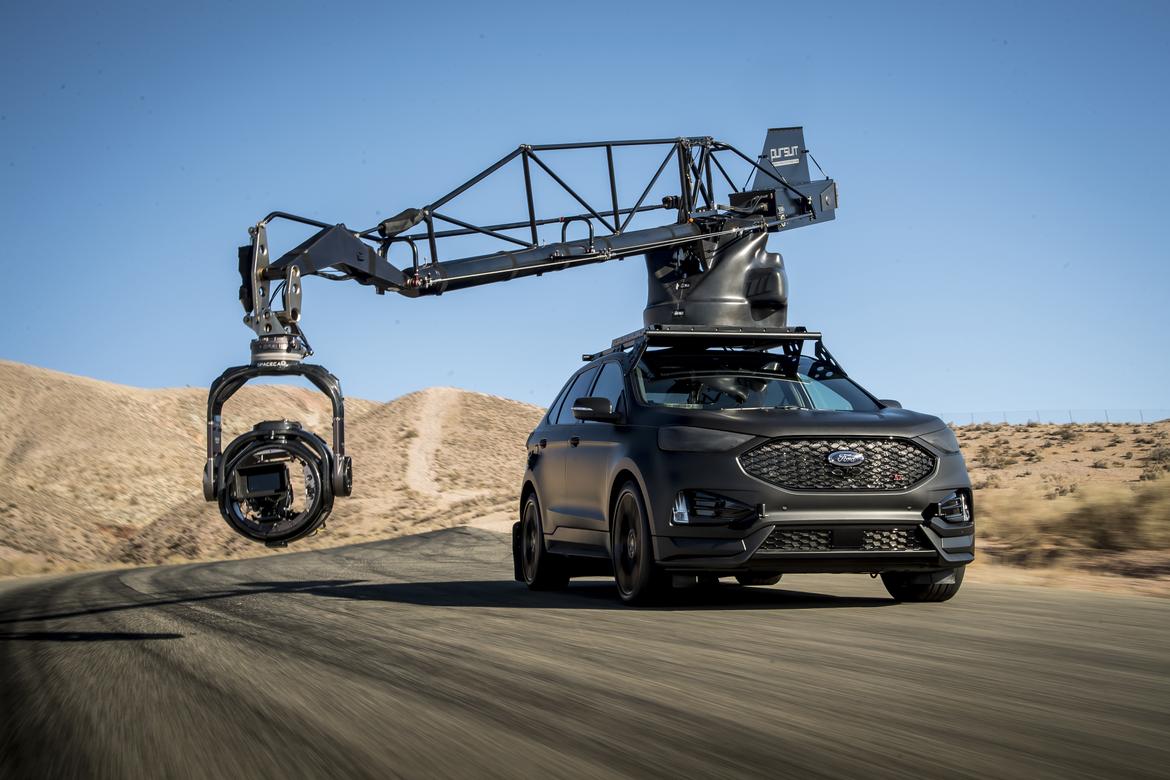 it's unlikely you'd find a vinyl-wrapped edge st with a nearly 1,000-pound camera crane at your local ford dealer. (if you do, see if you can score zero percent financing on it.) but north hollywood, calif.-based pursuit systems, a company that builds equipment for movie and tv studios, made it happen. the company's products include a roster of retrofitted vehicles to aid film production — among them the mercedes-benz ml63 amg, bmw x5 m, porsche cayenne turbo and ford f-150 raptor. now, the edge st joins the crew.
upgrades for production-set duty include a matte-finish vinyl wrap to reduce reflections on whatever's being filmed, a gutted interior with a roll cage, and structural roof supports plus air springs at each wheel to support pursuit systems' half-ton arm, which ends in a remote-controlled camera with gyroscopic stabilization.
this enhanced edge marks pursuit systems' fifth type of passenger vehicle rigged for camera work. the company also has four types of open-wheeled vehicles, including a yamaha yxz and a pair of polaris rzr side-by-sides, plus a boat and electric kart. credits from its garage of retrofitted rides include filming work for "san andreas," "jurassic world: fallen kingdom," "independence day: resurgence" and multiple installments of the "transformers" and "fast and furious" franchises. you know, artsy stuff that wins the palme d'or at cannes.
the edge, no doubt, will show up in plenty of other studio lots going forward, but it got us thinking about our favorite movie car-chase scenes that this type of vehicle would be used to shoot. editors weighed in; here are five of our faves:
"baby driver" (2017)
i love the chase scene in "baby driver." the editing to the great soundtrack adds to the thrill of the chase. jumping from one very different car to the next is also fun to watch. — melissa klauda, assistant managing editor, multimedia
the opening escape in "baby driver" is an instant classic for the drifting and smoking rear-drive subaru wrx, the lack of cgi fakery and, of course, the best chase-music choreography ever (to jon spencer blues explosion's "bellbottoms"). and why not chase the subaru with one more ford to go with all those crown vics? — fred meier, washington, d.c., bureau chief
"the bourne identity" (2002)
something about watching minis skidding around a city and squeezing through tight spaces is enthralling. add in a heavy dose of practical effects and a paul oakenfold-powered soundtrack, and it's parisian magic. — brian wong, los angeles bureau chief
"drive" (2011)
the eerie desolation of the l.a. streets at night. the tense '80s-invoking synth soundtrack. the alternating high-speed/low-speed game of hide-and-seek in the urban landscape as the police scanner narrates the action. ryan gosling's cool-as-a-cucumber getaway driver. the opening scene of "drive" is easily the most exciting thing that ever happened in a chevy impala. — matt schmitz, assistant managing editor, news
"c'etait un rendezvous" (1976)
a nine-minute french film shot through a bumper-mounted camera on a mercedes chase car screaming through paris in one morally questionable take with no police escorts or road closures. best of all, dubbed over with wonderful ferrari v-12 noises. — joe bruzek, managing editor
"ronin" (1998)
there are two great chase scenes in this movie, but the best one is the second one, a bmw m5 versus a peugeot 406. watching natascha mcelhone's increasingly frantic, desperate expressions as she tries to escape robert de niro in the peugeot just makes this scene. — aaron bragman, detroit bureau chief
you could say anything from the "fast and the furious" franchise to "mad max: fury road" to "baby driver," but the post-"french connection" standard-bearer of car chases uses minimal music to manipulate my emotions and keeps the focus on the cars — the seven-minute ballet between the bmw and the peugeot of "ronin" remains unrivaled. — patrick masterson, copy editor
editor's note: this story was updated oct. 26, 2018, to reflect the number of vehicles outfitted by pursuit systems.
's editorial department is your source for automotive news and reviews. in line with 's long-standing ethics policy, editors and reviewers don't accept gifts or free trips from automakers. the editorial department is independent of 's advertising, sales and sponsored content departments.