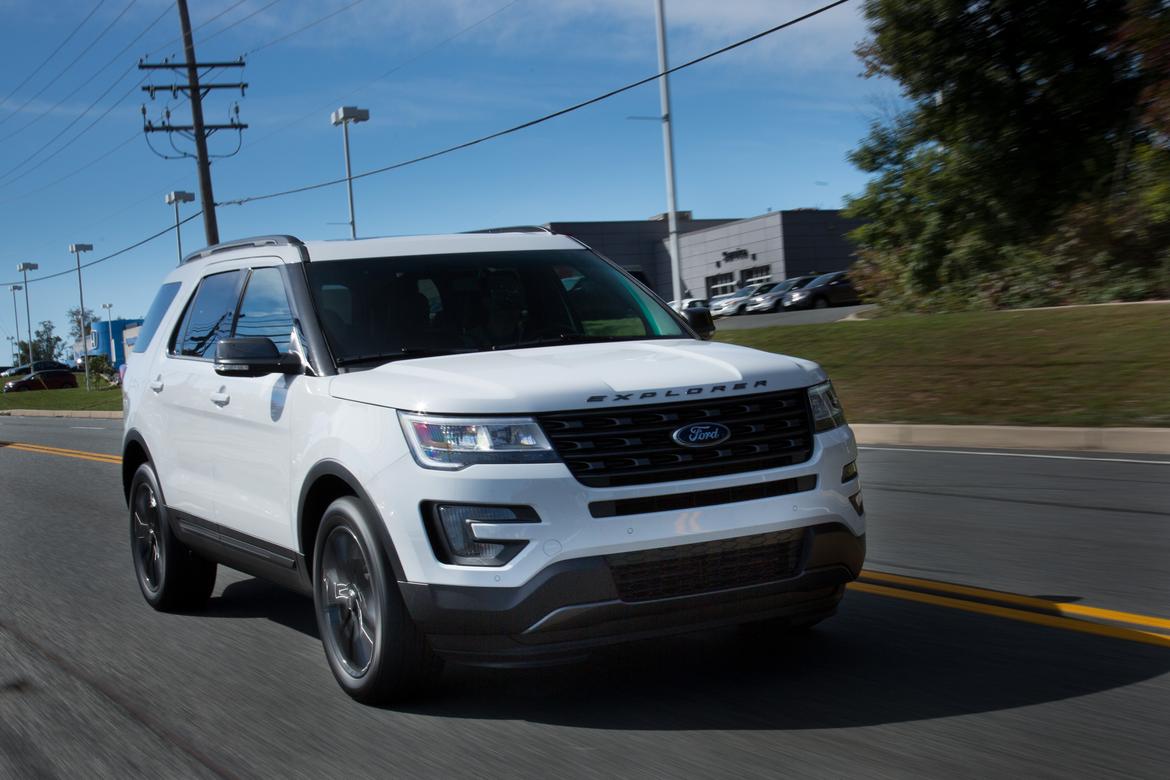 — Amid an investigation by regulators into cabin air quality on the 2011-17 Ford Explorer, Ford announced Friday that it will offer to any non-fleet owners a procedure on the SUV for "customers' peace of mind." The procedure, available to any current-generation Explorer owner from Nov. 1, 2017, through the end of 2018, calls for dealers to reprogram the air conditioning, replace drain valves in the liftgate and inspect the sealing around the rear of the SUV for free.
Related: NHTSA Upgrades Probe of Ford Explorer Exhaust Fumes
Ford spokeswoman Elizabeth Weigandt said in an email to that Friday's announcement was "not a recall" but a "free service we are offering [that] is proven by our team to further reduce the potential for exhaust to enter the vehicle."
The 2011-17 Explorer is under investigation by the National Highway Traffic Safety Administration for exhaust fumes in the cabin amid more than 2,700 complaints — some of which allege carbon-monoxide exposure. The investigation also includes police versions of the Explorer.
Last week's announcement could be Ford's most extensive attempt so far to address owner concerns about the issue, but it isn't the first. The automaker has issued multiple service bulletins on the matter with procedures for dealerships to address it, according to NHTSA filings, but some owners have raised concerns over the effectiveness of those procedures.
Get 2017 Ford Explorer Details Find a 2017 Ford Explorer Near You
In a statement to , NHTSA said its Explorer investigation, which covers some 1.3 million cars in the U.S., remains "active and ongoing," and "the customer satisfaction campaign announced by Ford does not bring closure to this issue." Owners should reach out to their dealers about the satisfaction campaign, NHTSA added, and those concerned about carbon-monoxide exposure should report the problem to NHTSA online or by phone.
Although the complaints include dozens of alleged injuries stemming from the fumes, NHTSA's testing of multiple Explorers — including vehicles filed in consumer complaints — has thus far found "no substantive data or actual evidence" to support a claim that ties the alleged injuries to carbon-monoxide poisoning. Early testing has revealed that carbon-monoxide levels "may be elevated in certain driving scenarios," according to the agency's filings, but the "significance and effect of those levels remains under evaluation."
The automaker has a hotline for Explorer owners regarding the issue at 888-260-5575.
"All of our testing to date has shown these vehicles are safe," Weigandt added. "We have not found carbon-monoxide levels that exceed what people are exposed to every day."
With regard to certain police-outfitted Explorers, the carbon-monoxide issue stems from unsealed holes after the installation of third-party police equipment, Ford claims.