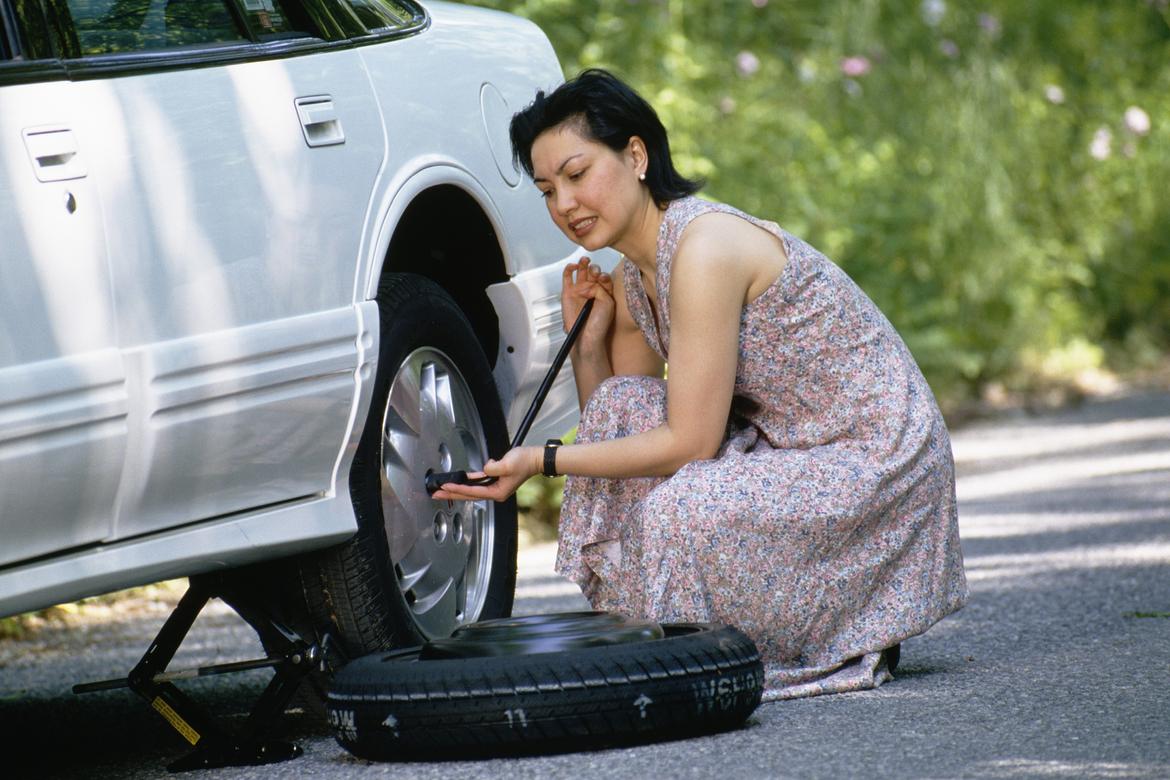 — Earlier this year, I was testing a car on a mountain road with no cellphone reception when I got a flat tire. There was a big rupture in the sidewall. No big deal, right? Slap on the spare, drive out nice and slow, then get the tire changed out the next day.
Related: AAA Issues Plea to Automakers: Spare the Spare
Get 2018 Jeep Cherokee Details Find a 2018 Jeep Cherokee Near You
But when I went to the trunk, instead of finding a spare, there was a tire inflator kit. It took about four or five hours of back and forth with roadside assistance to reach a towing company to get the car out, and then it had to be stored overnight somewhere. It was a huge, huge hassle. Laugh at my misfortune all you like, but this is becoming a more common experience, according to a just-released study by AAA.
Researchers for the roadside-services provider examined model-year 2017 vehicles and found that 28 percent of them do not come with a spare tire as standard equipment. Eliminating the spare tire reduces the weight of the vehicle and improves fuel economy. While those vehicles often come with kits that can temporarily fix small punctures, if you have sidewall damage like I did, a large puncture or a blowout, you're up a certain creek without a paddle.
AAA also offered up a list of 2017 models that don't offer a spare at all. Here they are in alphabetical order:
Acura NSX
Audi R8
Audi TT
BMW 2 Series
BMW 3 Series
BMW 4 Series
BMW 6 Series
BMW i3
BMW i8
BMW X3
BMW X4
Cadillac ATS
Cadillac CTS
Chevrolet Bolt EV
Chevrolet Camaro
Chevrolet Corvette
Chevrolet SS
Chevrolet Volt
Dodge Viper
Fiat 500
Fiat 500L
Fiat 500X
Ford C-Max
Hyundai Accent
Hyundai Ioniq
Infiniti QX30
Jaguar F-Type
Jeep Cherokee
Jeep Compass
Jeep Renegade
Kia Forte
Kia Niro
Kia Rio
Kia Soul
Mazda MX-5 Miata
Mercedes-Benz B-Class
Mercedes-Benz C-Class
Mercedes-Benz CLA-Class
Mercedes-Benz E-Class
Mercedes-Benz GLA-Class
Mercedes-Benz S-Class
Mercedes-Benz SL-Class
Mini Cooper Countryman
Mitsubishi i-MiEV
Nissan GT-R
Nissan Leaf
Porsche 718 Cayman
Porsche 911 Carrera
Porsche Panamera
Smart ForTwo
Tesla Model S
Tesla Model X
AAA offers up a few tips to keep from being stranded:
Don't assume there's a spare, and if there isn't, find out if it's optional.
Check tire pressures monthly, including the spare.
Find out if your tire-inflator kit has an expiration date, and read the owner's manual to learn its limitations.
In a previous survey, AAA reported that less than 20 percent of drivers don't know how to change a flat tire. So learn!