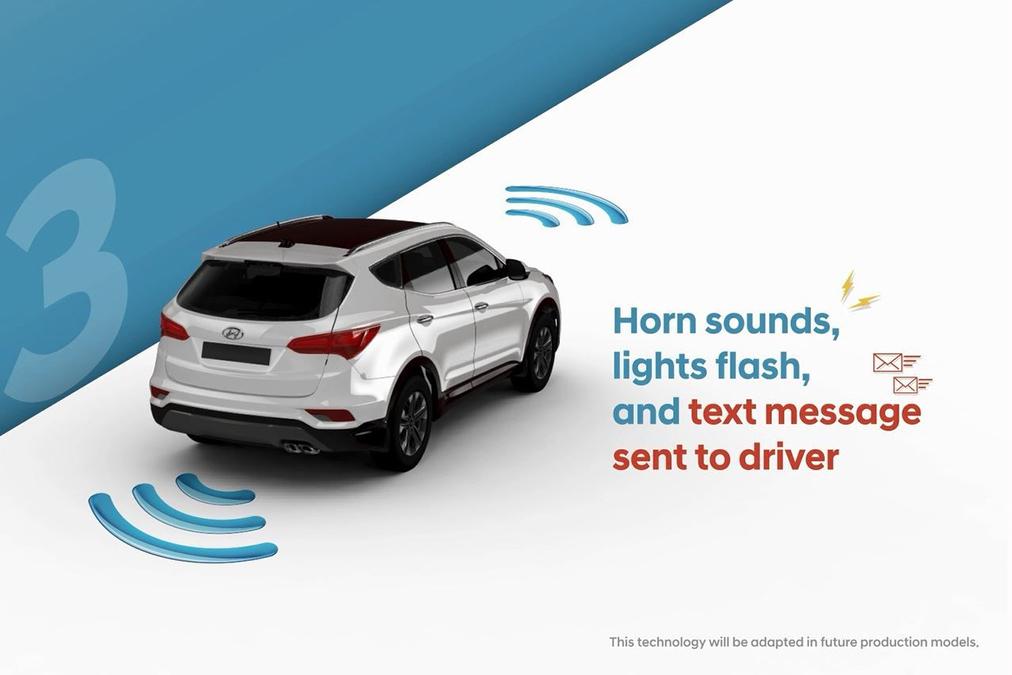 In-car heatstroke has claimed the lives of 739 children since 1998, according to scientists at NoHeatstroke.org, and automakers are increasingly taking notice. Hyundai is the latest, with a system designed to detect a child inadvertently left behind in a car. The Rear Occupant Alert system uses an ultrasonic sensor to monitor the backseat, helping to detect the movements of children.
Related: Lawmakers Propose Car Heatstroke Safety Act
If a child is detected, the system reminds the driver to check the backseat via a message on the instrument cluster screen in front of the steering wheel. Then, if movement is still detected after the driver exits the vehicle, the system will honk the horn, flash the lights and send a Blue Link alert to the driver's smartphone via Hyundai's Blue Link connected car system. This system will also help prevent cases of children accidentally locking themselves in a car, another dangerous accident that can lead to heatstroke.
According to safety advocacy group KidsandCars.org, a child's body overheats three to five times faster than an adult's, and heatstroke occurs when the body's temperature exceeds 104 degrees and the body's organs begin to shut down; death usually occurs at 107 degrees. Most of these deaths are an accident, and the common theme among them is that caregivers are distracted by a change in routine and tired. The resulting forgetfulness is deadly.
"This system is a first step in preventing tragedies. We understand only a brief lapse in judgement and inattention can have terrible consequences," Mike O'Brien, Hyundai Motor America vice president of product, corporate and digital planning, said in a statement.
Hyundai's new system joins similar systems from GM and Nissan, but Hyundai's works differently. GM's Rear Seat Reminder doesn't detect rear passengers or child-safety seats, but instead monitors a vehicle's rear doors, activating when either door is opened or closed when the vehicle is running or within 10 minutes of it being started. It sounds a chime and displays a message on the instrument panel. The system is currently on more than 20 Buick, Cadillac, Chevrolet and GMC models.
Nissan's Rear Door Alert system also utilizes door sequence logic and an instrument-panel message alert like GM's system, but adds multiple horn honks to remind drivers to check the rear seat after the vehicle is parked and the driver exits. The system is standard on the 2018 Pathfinder SUV and will make its way to other Nissan vehicles.
Hyundai's Rear Occupant Alert system will be available starting on model-year 2019 vehicles.