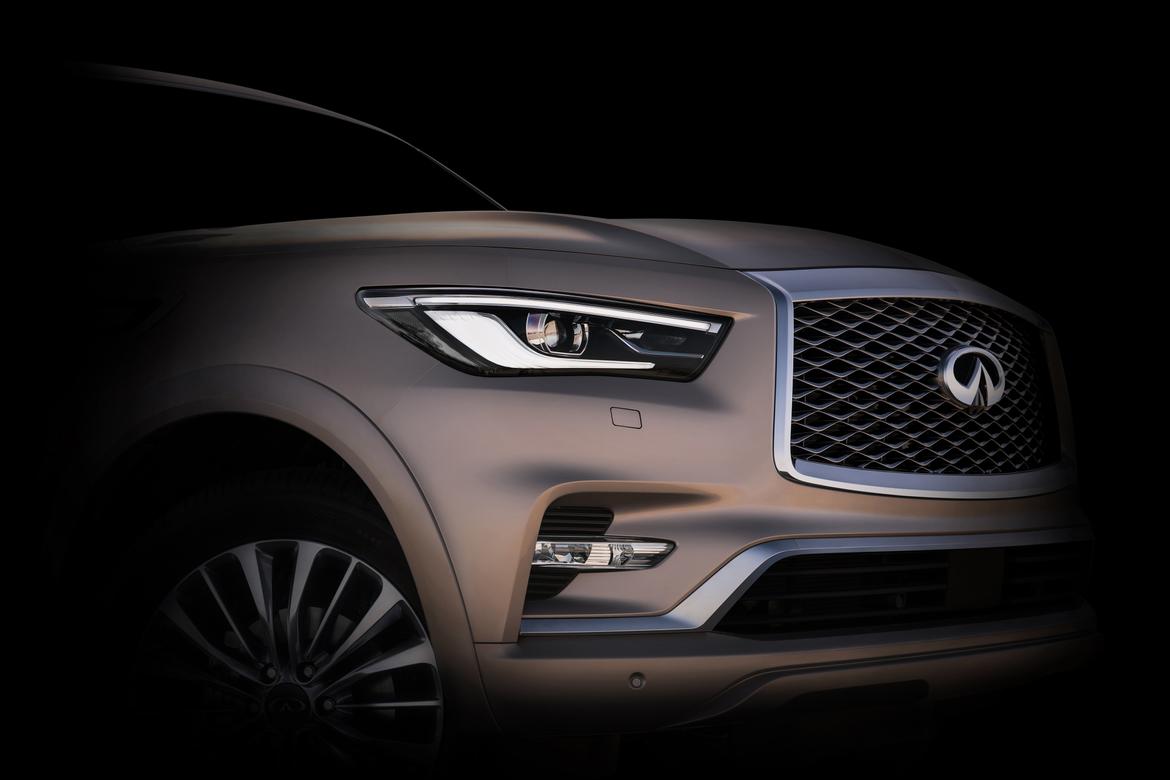 — Infiniti just announced plans to unveil a significant update of its full-size luxury SUV, the QX80. The brand, a luxury division of Nissan, will unveil the new SUV Nov. 14 at the Dubai International Motor Show 2017. (No word on whether Tom Cruise will be scaling the Burj Khalifa out back during the reveal.)
Related: 2018 Infiniti QX30: Room Without a View
We'll have to wait a month to take in the full changes, but Infiniti's five teaser images suggest cleaner styling than the current generation, which looks like it sat in the microwave too long.
The images show a toned-down grille with tighter headlights that appear to sit higher than before. Below the grille is a three-portal bumper with silver trim that fuses the middle and outer portions. The whole of it suggests the QX80's awkwardly tall face and sunken elements are gone, but it's unclear if this comes by way of a full redesign or just a refresh of the current generation, which debuted as the QX56 in early 2010 and received a face-lift four years later.
A full redesign seems likelier, given the teaser shots embody elements of Infiniti's QX80 Monograph Concept shown earlier this year. (Asked for more details, an Infiniti spokesperson did not immediately respond to .)
Get 2017 INFINITI QX80 Details Find a 2017 INFINITI QX80 Near You
Infiniti promises "powerful proportions" and a "handcrafted interior," but it's unclear if and when the SUV hits U.S. dealerships. It's hard to imagine the new QX80 not making it here, though: Despite its $60,000-plus starting price, the current version remains Infiniti's third-best-selling model.
Infiniti QX80; Manufacturer images