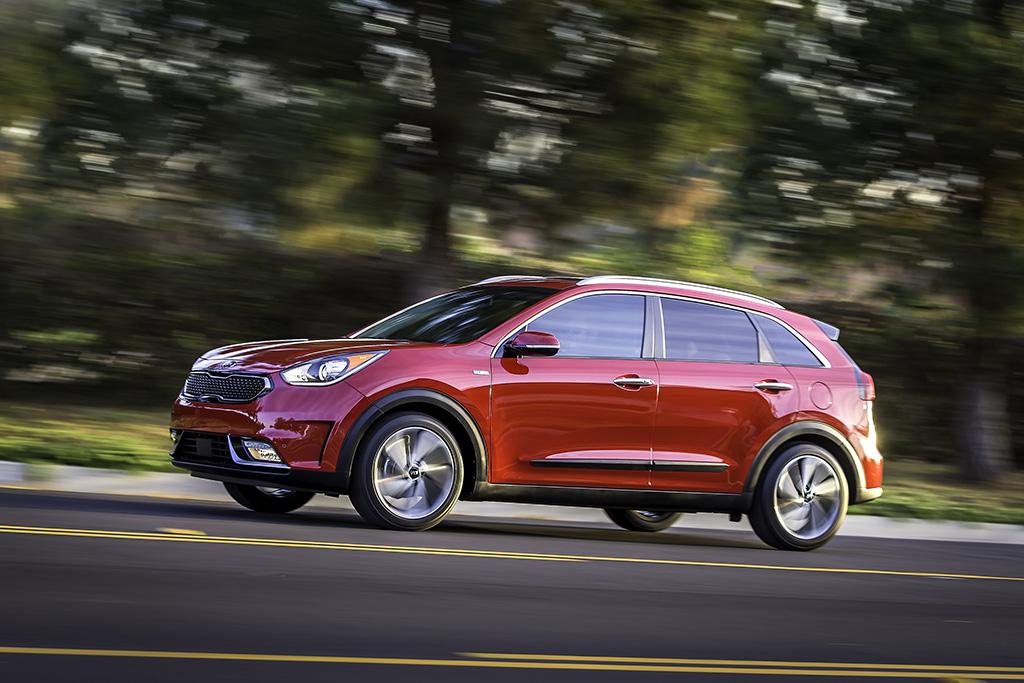 — The Toyota Camry might be the most reliable late-model used car, but the new car with the highest predicted reliability is the Kia Niro, according to Consumer Reports. Kia's hybrid hatchback topped the magazine's annual reliability ranking, which took survey responses from some 400,000 subscribers who own a combined 640,000 vehicles.
Related: Toyota Camry Most Dependable After Three Years: J.D. Power
At the other end is the Tesla Model X. Owners of Tesla's new SUV reported myriad problems, from loose fittings and latch failures to sensor malfunctions from the SUV's power-lifting Falcon Wing doors. Despite that, Tesla's overall reliability moved the brand up four spots to land 21st out of 27 brands, thanks to better reliability for the Model S.
In an emailed response to , Tesla blasted Consumer Reports for "singling out Tesla to a degree that is absurd, unnecessary, and misleading, implying for example that our cars are unsafe, underperforming and unreliable based on tests and surveys that lack basic scientific integrity."
Tesla claims vast reliability improvements in the Model X since early production units, and "while we would be the first to admit that Model X had reliability issues at the beginning of the program, that is simply not a concern for new Model X cars today, and it hasn't been one for quite a while," the automaker said. "Consumer Reports' reliability ratings lag well behind current reality given that their survey is conducted many months before the results are published."
The Niro and Model X share one thing in common: Both hit the market relatively recently, meaning survey responses came from recent purchasers as opposed to longtime owners. Future survey responses will no doubt influence both cars' reliability ratings, so stay tuned.
Get 2017 Kia Niro Details Find a 2017 Kia Niro Near You
Toyota took the top position overall in CR's 2017 survey, with average or better scores for nearly all cars from its namesake brand and upscale Lexus division. With help from the Niro, Kia landed a podium finish, notching the third highest reliability for 2017 — up from fifth place a year ago. Audi and BMW ranked fourth and fifth, respectively.
By contrast, Cadillac and GMC rounded out the bottom of the list amid declining reliability for all four GM brands (Buick, Cadillac, Chevrolet and GMC). The Cadillac Escalade SUV ranked among the five worst models in predicted reliability for a second year running, the magazine said. Owners reported freezing and crashing multimedia systems, as well as powertrain problems.
The redesigned Volvo XC90 joins it with a slew of problems for its giant dashboard touchscreen (something we can attest to). It isn't just lag; some owners told CR the screen would reboot and go blank entirely, locking out important vehicle functions. The Model X and two Ford cars — the Fiesta and Focus — join the XC90 and Escalade for industry-worst reliability. Both Ford models suffer transmission problems that go beyond balky shifting; some Fiesta owners reported entire transmission rebuilds.
European brands improved, with Audi and BMW landing among the top 10 brands, while Mercedes-Benz and Volkswagen climbed. Volvo fell, however, as the XC90 dragged down brand reliability.
Of note, the bottom of the list wasn't a collection of Fiat Chrysler Automobiles brands (Alfa Romeo, Chrysler, Dodge, Fiat, Jeep and Ram). FCA is a low-ranking automaker in reliability surveys, but the Chrysler brand climbed 10 spots thanks to average reliability from the well-received Pacifica minivan, while Jeep, Dodge and Ram also saw improvements.
Here's how brands finished in the Consumer Reports survey, including movement in the rankings since last year and average brand-wide reliability score:
Toyota (up one), 80 points
Lexus (down one), 77 points
Kia (up two), 71 points
Audi (no change), 68 points
BMW (up four), 62 points
Subaru (up five), 60 points
Infiniti (up one), 60 points
Buick (down five), 59 points
Honda (up one), 59 points
Hyundai (down three), 59 points
Nissan (up two), 53 points
Mazda (down six), 52 points
Porsche (up three), 50 points
Mercedes-Benz (up three), 47 points
Ford (up three), 45 points
Volkswagen (up six), 44 points
Chrysler (up 10), 41 points
Chevrolet (down three), 39 points
Acura (down seven), 38 points
Jeep (up three), 38 points
Tesla (up four), 37 points
Lincoln (down two), 33 points
Volvo (down four), 33 points
Dodge (up two), 32 points
Ram (up four), 30 points
GMC (down two), 28 points
Cadillac (down six), 26 points
CR didn't have enough data to rank a handful of low-volume brands, including Alfa Romeo, Fiat, Genesis, Jaguar, Land Rover, Maserati, Mini, Mitsubishi and Smart.