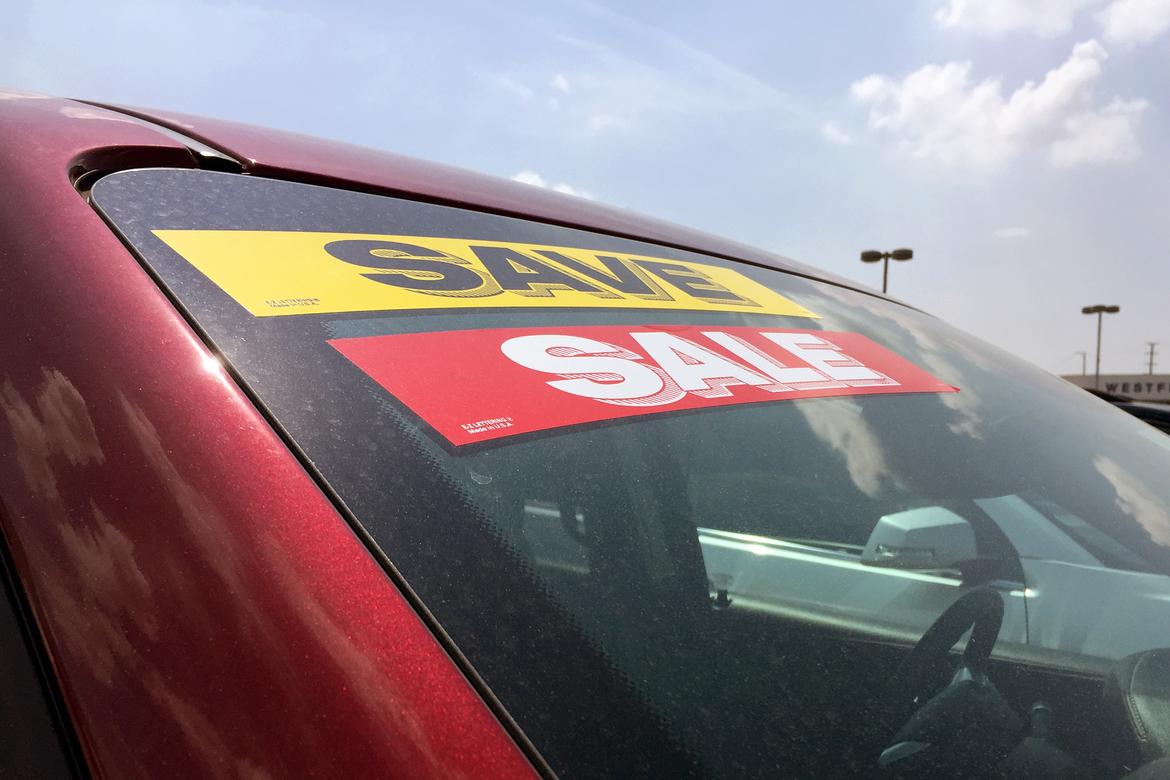 — Last we checked, getting out to those autumnal pastimes — hayrides, apple picking, pumpkin-flavored everything — usually requires a car. And if your jalopy's bodywork has more holes than a jack-o'-lantern, maybe it's time for something new.
Related: Hyundai's Shopper Assurance Plan Streamlines Car Buying
The pickings aren't slim just yet, but industrywide discounts continue to plateau. Automakers posted their first collective sales gain of the year in September — following eight consecutive months of losses, per Automotive News — while new-car deals averaged $3,889 per car, according to Autodata Corp. That's up just $199, or 5.4 percent, versus September 2016, marking the lowest year-over-year increase in 21 months. You'd have to go back to Christmas 2015 to see sleepier gains.
That said, incentives are still up. And that's good news for shoppers, albeit not for the industry. Here are some notable discounts we found:
Dodge Grand Caravan
How much can I save? Plenty. The Grand Caravan is on its way out as parent company Fiat Chrysler Automobiles moves shoppers to the Chrysler Pacifica, but the aging Dodge remains a value. Sales for the nameplate collapsed 61.9 percent in September as the 2017 model averaged 120 days on dealer lots, eight days longer than the industry's 112-day average for all 2017s. Through Halloween, FCA is offering $2,750 in cash rebates on the Grand Caravan in the cities we checked, though the deal requires you to finance through the automaker's lending arm. You can get considerably more in some markets, where FCA advertises up to 20 percent off the oldest 15 percent of dealer stock.
Any financing deals? Qualified borrowers can get financing as low as zero percent.
But FCA has suspended production on the van. Are there any left? Quite a few. FCA reportedly told dealers to stock enough inventory to last through the end of the year under a temporary production suspension, and it appears dealers have done just that. As of Oct. 10, had some 7,000 Grand Caravans in new-car inventory.
Get 2017 Dodge Grand Caravan Details Find a 2017 Dodge Grand Caravan Near You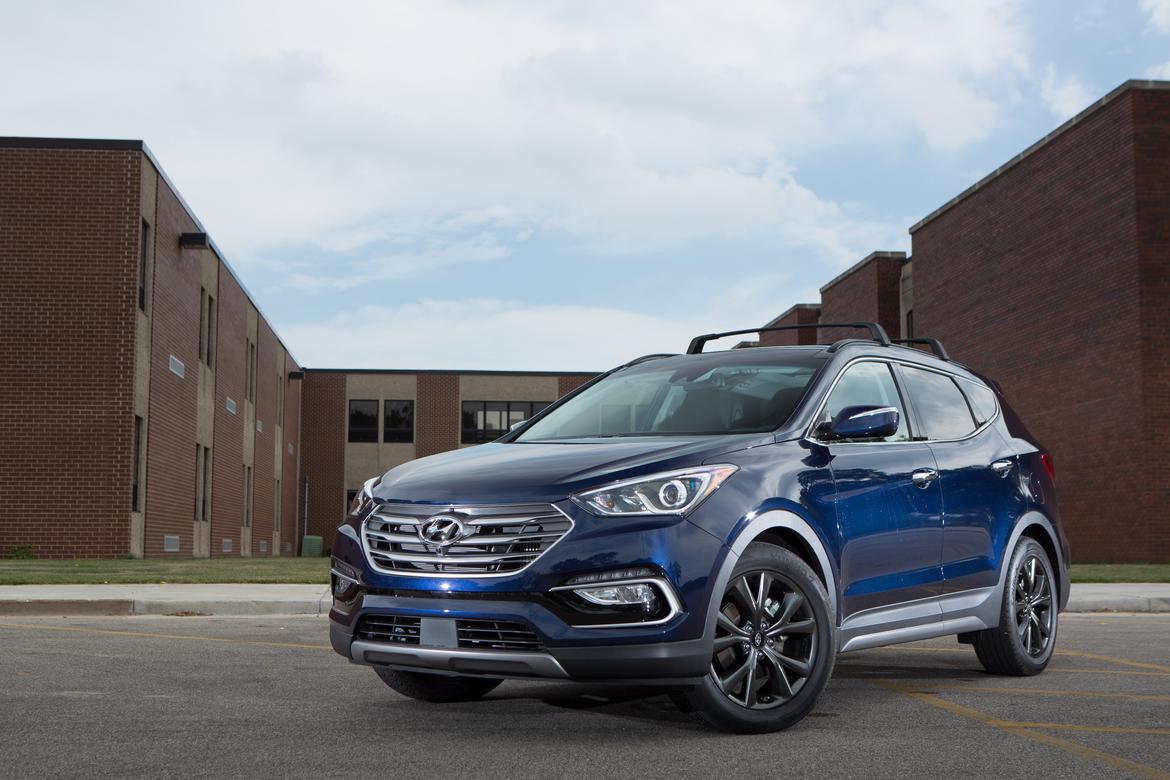 Hyundai Santa Fe Sport
How much can I save? From $2,250 to $3,750 off the 2017 Santa Fe Sport or $2,500 off the 2018 model. That comes as Santa Fe sales — which include the three-row Santa Fe and two-row Santa Fe Sport — gained just 0.6 percent in a market up 6.3 percent overall, per Automotive News. The discounts extend through Halloween.
What about discount financing? Qualified shoppers can get financing as low as 0.9 percent on the 2017 Santa Fe Sport or zero percent on the 2018 model.
Get 2017 Hyundai Santa Fe Sport Details Find a 2017 Hyundai Santa Fe Sport Near You
Jeep Patriot
How much can I save? Buckets. Cash deals ranged from $3,250 to $5,000 on the discontinued 2017 Patriot in the cities we checked as sales for the SUV dived 84.2 percent in September, though that's versus a good year-ago month. The discounts require financing through Chrysler Capital (Jeep is an FCA brand), but those who pay cash or line up financing elsewhere might still negotiate steep deals, given the Patriot averaged 239 days to turn last month. Dealers should be highly motivated to move the metal.
Any financing deals? Qualified shoppers can get financing as low as zero percent.
If it's discontinued, are there any left? Enough that you should be able to find one. As of Oct. 10, still had nearly 2,400 new 2017 Patriots listed.
Get 2017 Jeep Patriot Details Find a 2017 Jeep Patriot Near You
Editor's Choice: GMC Sierra 1500
How much can I save? It depends which version you get. We observed advertised cash discounts from $2,500 to $4,500 off the 2017 Sierra in various markets. Those are modest numbers on a full-size pickup truck whose pricing can easily blow past $40,000, but that's for a model that boasts strong capability and solid drivability. Sales for the Sierra were roughly flat last month as non-Denali crew and extended cabs averaged triple-digit days to turn for the 2017 model year — 163 days on the crew cab. This month's posted incentives last through Halloween.
What about financing? Qualified shoppers can get financing as low as zero percent on the 2017 Sierra 1500.
Get 2017 GMC Sierra 1500 Details Find a 2017 GMC Sierra 1500 Near You
The Returnees
We focus on cars new to the list or ones we haven't highlighted in the past few months. But many cars from recent months still have deep discounts in October:
2017 Chevrolet Cruze
2017 Ford Expedition
2017-2018 Hyundai Elantra
2017 Hyundai Sonata
2017 Jeep Cherokee
2017 Mazda3
2017-2018 Toyota Prius C
How We Look for Deals
To look for October deals, we considered sales in September among the top 100 best-selling cars, specifically eyeing models whose sales underperformed the market. We also looked at days-to-turn data from September, which measures how long it takes on average for dealers to sell a given car. Both factors illustrate September's slow sellers, cars on which dealers could be more willing to cut a deal.
Finally, we looked at factory cash discounts and low-interest-rate financing offers that are especially high for the price of the car. (After all, $2,000 is a lot more on a Ford Focus than a Ford Explorer.)
Sales and incentives data come from Automotive News and automakers' websites, while days-to-turn data come from J.D. Power and Associates. Remember, our numbers are national in scope and reflect advertised customer discounts, not unadvertised factory-to-dealer cash. Discount financing typically requires qualifying credit, too, and incentives may vary by region and trim level. In sum: Your discounts may vary, so check with your local dealer for specifics.