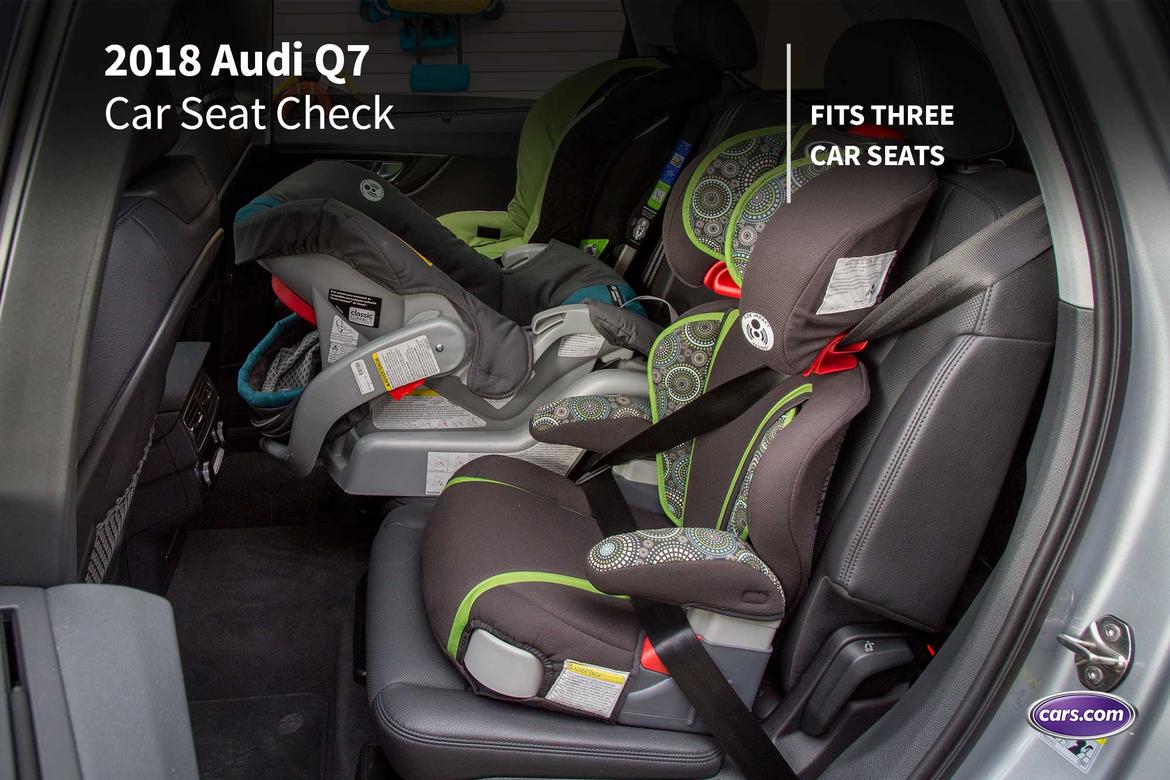 parents are often searching for the automotive holy grail: a car that's not a minivan and can fit three child-safety seats across the back seat. in our car seat checks, we've found the answer that parents and caretakers need.
more car seat checks
in the more than six years that editors have been installing car seats into vehicles to test both fit and room, we've come across cars, suvs, vans and pickup trucks that can comfortably and safely hold three car seats across the vehicle's back seat. the newest models on the list are the 2018 nissan titan and 2018 audi q7 suv; both vehicles also made the list last time we tested them. in platinum reserve crew-cab trim, the titan pickup truck easily accommodated three car seats across its wide backseat. audi's q7 luxury family hauler also offered plenty of room in its second row as well as easy-access lower anchors.
related: that's not how any of this works! we call b.s. on car seat safety myths
as we come across more cars, trucks, vans and suvs that fit three child-safety seats, we'll add to this list. for now, here are the cars from our car seat checks that can fit three car seats in the second row:
minivans
sedans
coupes
suvs
trucks
2018 nissan frontier
2017 honda ridgeline
2017 nissan titan crew cab
2016 chevrolet silverado crew cab
2016 nissan frontier

2015

ford

f-150 supercrew cab

2015 ram 1500 crew cab

2013 ford f-150 xlt supercrew cab
vans
2015 ram promaster city wagon
about 's car seat checks
for car seat checks, the front seats are adjusted to a comfortable position for a 6-foot driver and a 5-foot-8 passenger. the three child seats — a graco high-back booster seat, britax convertible car seat and graco rear-facing infant-safety seat — are installed in the second row. we install the car seats using the latch anchors, or with a seat belt if we can't use latch because of difficulty or unavailability.
the booster seat sits behind the driver's seat, and the infant and convertible seats (in forward and rear form) are installed behind the passenger seat. we also install the infant seat in the second row's middle seat with the booster and convertible in the outboard seats to see if three car seats will fit. a child sitting in the booster seat must be able to reach the seat belt buckle and all three seats need to be at proper angles for safety -- no wedging them in. in some cases, our three car seats almost fit and narrower car seats would likely fit better. if there's a third row, we install the booster seat and a forward-facing convertible.
editors jennifer geiger, jennifer newman and matt schmitz are certified child safety seat installation technicians. to learn more about how we conduct our car seat checks, go here. and for more on common car-seat mistakes to avoid, check out the video below.
editor's note: this story was updated on nov. 1, 2018.
's editorial department is your source for automotive news and reviews. in line with 's long-standing ethics policy, editors and reviewers don't accept gifts or free trips from automakers. the editorial department is independent of 's advertising, sales and sponsored content departments.